Boende anordnad av oss i Saint-Raphaël
Det finns olika alternativ av boende.
Arrangemang kan göras för dem som vill leva med en fransk värdfamilj som i sin tur erbjuder olika boende från ett enkelrum med kök till en hel familjelägenhet för mellan 3 till 6 personer.
Kom ihåg att alla de ovan nämnda faciliteterna görs till självkostnadspris av skolan. Denna tjänst kräver en hel del arbete, utan förtjänst för skolan. Vi gör detta med glädje för att underlätta din vistelse. Föreställ dig bara att behöva boka eget boende via telefon eller internet där hyresgästen inte ens talar engelska - och att få rena och trevliga boenden för det pris du har råd med.
Denna självkostnadspristjänst princip gäller även för luncher med lärare, våra utflykter, sportaktiviteter och flygtransfer. Vår belöning är endast från kursavgifterna och att du blir nöjd med våra kurser och vår skola.
OBS: Alla självhushåll lägenheter från vår "privata lista" är tillgängliga när minst två personer registrerar sig på våra franska kurser till minst två veckor . Vi gör det eftersom vi har ett begränsat antal sådana lägenheter med en hyra som ibland bara är hälften av vad kommersiella " Season Estate Agencies " begär.
Med ankomsten av detta nya platform Airbnb , inträffade dramatiska förändringar i bokning de senaste åren. Fler och fler människor litar på deras erbjudande eftersom de systematiskt garanterar WiFi-anslutning och luftkonditionering A / C .. Två service tjänster som är nästan standard idag och obligatoriska under varma sommarlov. Bokningen kan du göra själv utan vårt hjälp
Boende I franska värdfamiljer
Tre exempel på franska värdfamiljer (Homestay), alla mycket nära vår skola. Kolla med Google-map deras adress i stan. Vi har några andra värdfamiljer, inte upptagna i denna lista, också mycket nära till vår skola. Alla mycket trevliga och ansvarstagande ... Annars skulle vi inte behålla dem!

A nice lady, living alone in a large apartment, familiar and used to welcoming foreign students and who loves it since many years Halv pension, breakfast & dinner, and help with homework in the evening since she has experience in teaching French and other languages. Apartment with all facilities, two individual bedrooms at disposal , living room, kitchen, bathroom ,separated toilet, WiFi connection Large private swimming pool for all residents, garden with green plants and flowers, 1500 meters from our school. Bikes arranged when needed. 126 Blvd Remi Belleau 83700 Saint-Raphaël (See on Google Maps)

Another French host family, in a very quite residence without local traffic . An elderly widow , very gentle and nice active in different associations, very talkative, convenient for you who want to practice French . Single or double room . In a beautiful park with only the sound of the cooing of doves. Located on Avenue de Verdun.
Family Boarding House For students 14 - 20 y.o.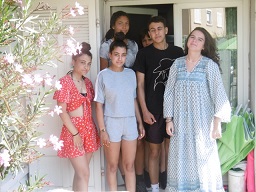 Located in a large house with a garden, Where most of the courses take place.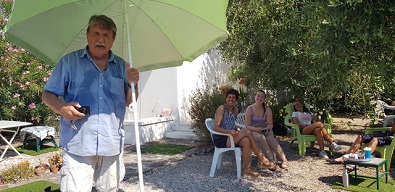 From different countries share this house under family supervision.Extensive freedom is given under the day but there are strict rules at night for the Teens.Very good food. The French hostess is very responsible and outspoken. Speaks also English and Italien.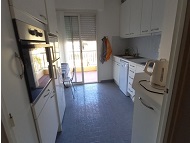 She is also one of our substitute teachers and knows both the pupils and their shedules.Unlimited access to ADSL Internet is available so to keep in touch with your Family and with friends.Free of charge.Single room available for extra fee of 3 Eur/day.Please, tell us when registering.
Self Catering Family Apartments

A top modern self catering apartment with all the commodities, around 60 m2, bedroom, living room with extra coach, bathroom, separated toilet, WiFi, 5 min walking distance to the beaches, to the local shopping shops with grocery store, located in Boulouris, the elegant suburb of Saint-Raphaël. On the third and last floor of a beautiful building with elevator. Two separated terraces on each side of the apartment, total surface of 25 m2 and with splendid view over green spaces. A own or rented car is a necessity 3 km from our school.
Catering Family Apartments

A nice , cosy and self catering apartment on the ground floor of a villa, with a huge garden and swimming-pool in the residential and elegant area of the town.Two bedrooms, one for the parents and the second for the children with a bunk bed + an folding sofa . Suitable for 3 kids ..Bathroom and laundry facilities ... Outdoor terrace for your evening meals . Next door,large room for access to French TV programs for the kids in agreement with the hostess ..The whole family has unlimited access to the swimming pool ...WiFi access . About 2 km from our classes. A car would be needed Located on Avenue Edouard Herriot.
Another Family Apartment

With two bedrooms, one with a large double bed for the parents with TV , the other with two large double beds for the children.
Suitable for 5-6 people, Kitchen, bathroom, separate toilet, balcony for your meals, on the first and only floor and as an extension of the main house , large garden with view from the terrace / balcony. The hostess invites often their summer guests different vegetables from the garden . Private entrance . WiFi access with code . No air conditioning but large fans in all the rooms Located on Boulevard Ampère. 3 min walking distance to our classes , 10 min to all the shops and to downtown. Totally renovated last spring 2018. With all modern appliances and commodities.Located on Boulevard Ampère, Saint-Raphaël
Another Family Apartment / Studios

Three large studios in the same house, shown in the below picture - one family apartment, suitable for 5-6 people with all amenities - two smaller studios, suitable for 2- 3 people with all amenities All of them, on the ground floor of the house, common laundry in the garden + barbecue equipment The big house, with the brown / ocher facade, behind the palm tree …Very quiet and no traffic nuisance Car parking facilities in the garden behind protected Gate. 5 min walking distance to our classes on avenue de la Marne and 5 min to downtown with all supermarket facilities … 10 min to the beaches ….
Ett nytt boende erbjudande, fr.o.m sommar 2023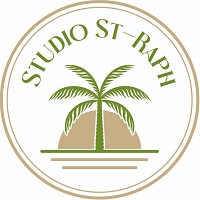 cafeparadis-restaurant.com/les-appartements Då du bokar och betalar själv online We offer 3 apartments, tastefully furnished, located in the heart of the center of Saint-Raphaël. Really everything on foot, walking distance, you will be minutes from school, beach and all amenities! Contact : 56 Avenue Général Leclerc 83700 Saint-Raphaël Phone +33 609 39 96 20 from 12:00 to 15:00 & 19:00 to 23:00 in English or French Mail: moulet.m@gmail.com
Prisexempel: alla boende inklusive lakan och services
4 rum, upp till 6 personer, i innerstaden: 150 euro per dag 3 rum, 2-5 personer, i innerstaden: 120 euro per dag 2 rum, 2-3 personer, studio med A.C i innerstaden : 70 euro per dag 3 rum, 4-5 personer, bottenvåning av en stor villa med pool: 140 euro per dag